Steel pipe elbow plays a key role in the pipe fittings, which frequently used in different application and available in various shapes and sizes. It connects two pipes with same or different nominal diameters, and to make the pipe turn to a certain direction of 45 degree, 90 degree or 180 degree.

Butt Weld 90 Degree Elbow
It is very common degree in the elbow fittings, and commonly used to change the fluid direction by 90 degree. There are two types that long radius and short radius.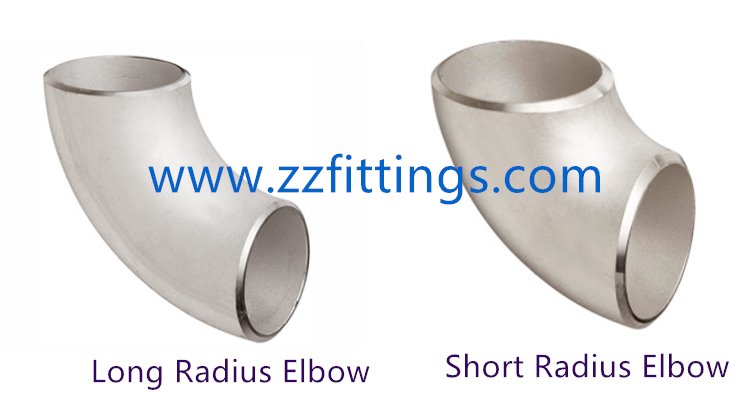 We usually see them in the description of elbow as LR or 1.5D. That means LR = 1.5D and D is outside diameter.
Short Radius 90 Degree Elbow
They are named as SR or 1D in the description of elbow which mentioned above. So the bending radius is same as the outside diameter.
45 degree elbow are most same as 90 degree elbow which mentioned as above. Except the angle, there is another difference of bending radius. 45 degree elbow just has long radius type.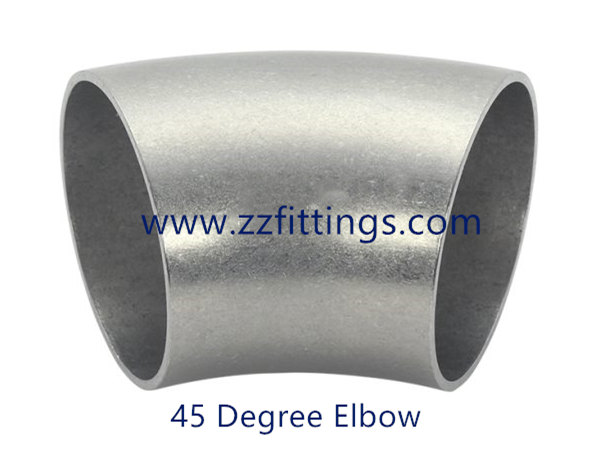 180 Degree Steel Pipe Elbow
We also call 180 Degree elbow as return elbow. It helps change direction at 180 degrees. Its application is limited to minimal deposition and low turbulence system.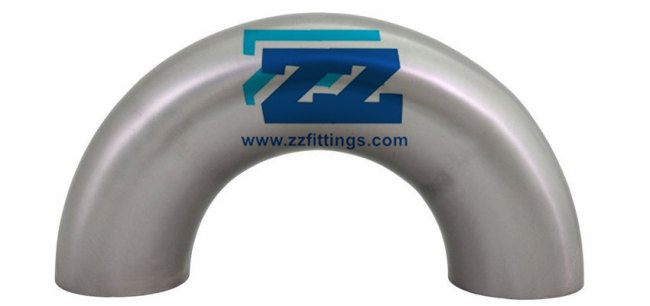 How to Process the Carbon Steel Pipe Elbow?
We usually process the pipe elbow by hot forming which have two methods. One is hot pushing pipe elbow and the other is hot heating bending elbow. Here is the manufacturing process as following.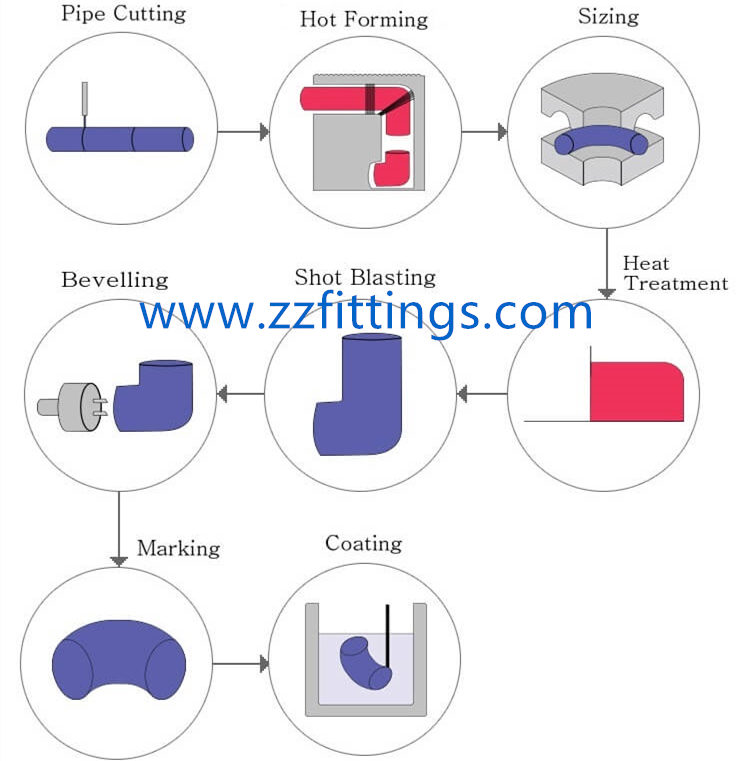 According to the processing technology, it is divided into three categories, butt welded pipe elbow (weld and seamless two types), socket welding elbow and threaded pipe elbow. 
Butt Weld Pipe Elbow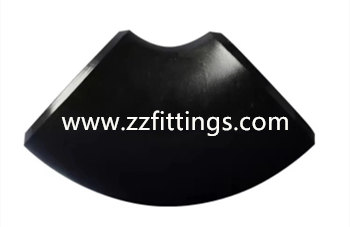 BW elbow is a formed by hot forming. It connect the steel pipe or other pipe fittings by butt welding process. According to the technical process, there are two types that seamless and welded elbow.
Supply Range
Size: NPS 1/2 to 48 / DN15 to 1200
Thickness: Sch 10S, 20, 40, STD, XS, 80, 160 and XXS.
90 Degree & 45 Degree Elbow Dimensions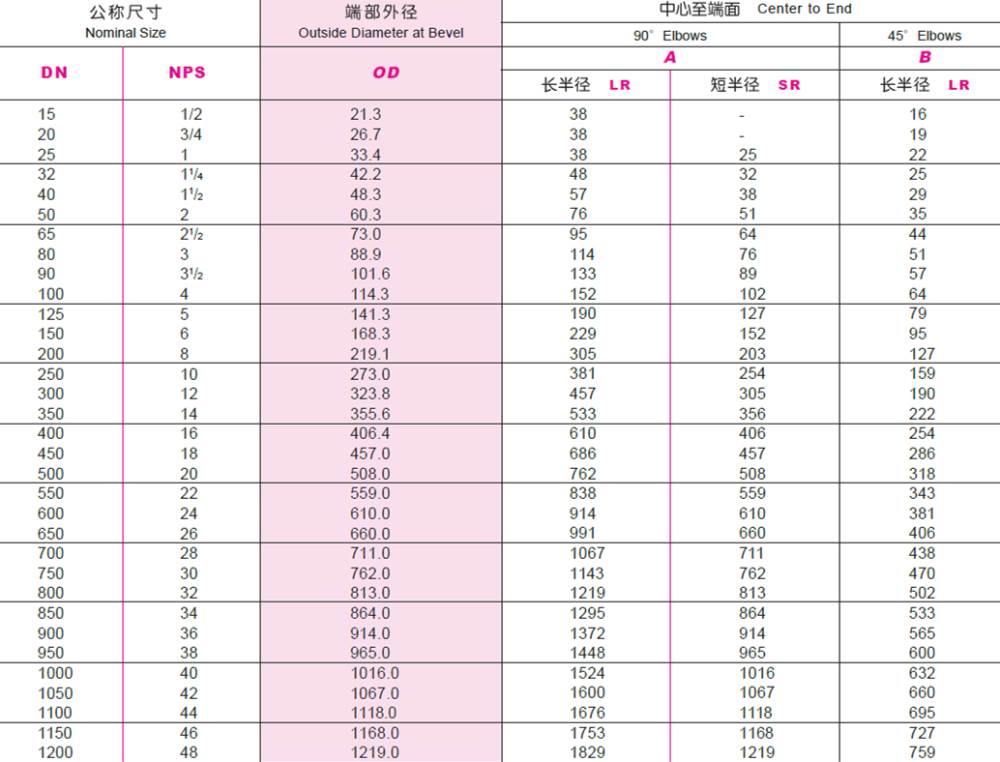 Weight Chart of 90 Degree Long Radius Elbow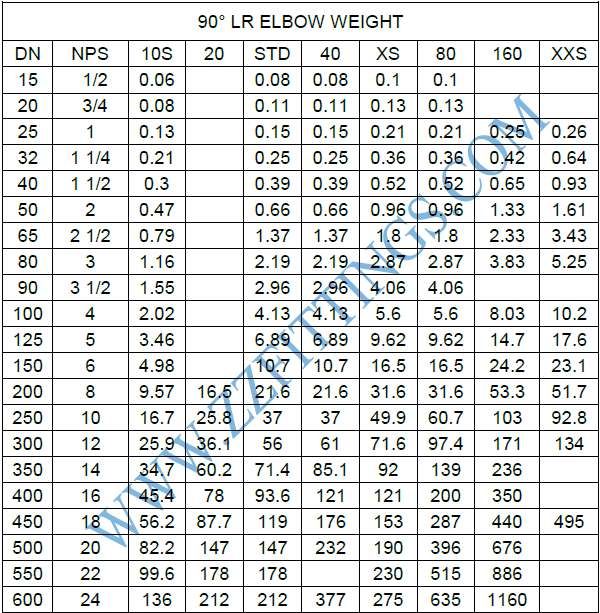 Socket Weld Steel Pipe Elbow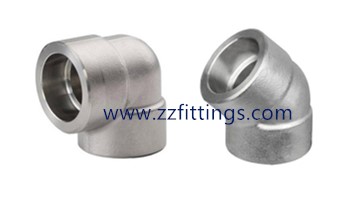 Take a pipe insert into a recessed area of elbow, and then welding, that is calledsocket weld elbow. In contrast to buttweld elbow, Socket Weld elbow are mainly used for small pipe diameters (Small Bore Piping) whose nominal diameter is NPS 4 or smaller. There are two angles that socket weld 90 degree elbow and socket weld 45 degree elbow.
Supply Range
Size: NPS 1/8 to 4 / DN 6 to 100
Pressure: 3000LB, 6000LB, 9000LB.
Dimensions & Weight of Socket Weld Elbow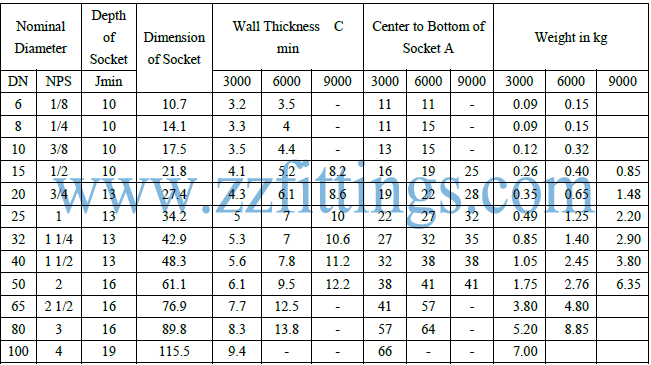 Threaded Steel Pipe Elbow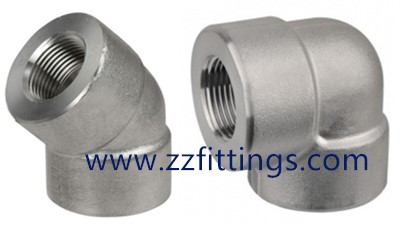 Both socket weld fittings and threaded pipe fittings are belong to forged steel fittings. It connect the steel pipes or fittings by screw, the common thread type is NPT, BSPP and BSPT. They also have types that threaded 90 degree elbow and threaded 45 degree elbow.
Supply Range
Size: NPS 1/8 to 4 / DN 6 to 100
Pressure: 2000LB, 3000LB, 6000LB
Dimensions & Weight of Threaded Elbow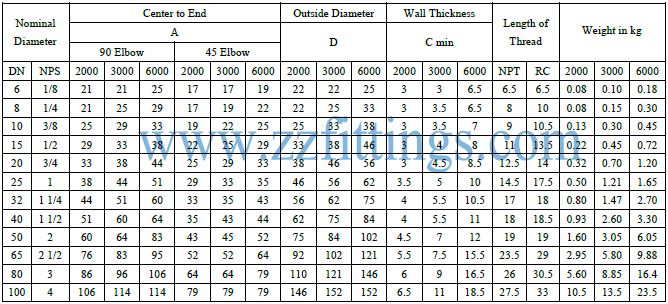 Material & Grades for Steel Pipe Elbows
Carbon Steel Elbow Fitting
ASTM A105, A350 LF2, LF3, A694 F52, F60, F65, F70
ASTM A234 WPB, A860 WPHY42, 52, 60, 65, 70, A420 WPL 3 / 6 / 9
ASTM A403 WP304/304L/304H, WP316/316L, WP310, WP317, WP321, WP347
ASTM A182 F304/304L/304H, F316/316L, F310, F317, F321, F309, F347, F904L
Alloy Steel Elbow Fitting
ASTM A182 F1, F5, F9, F11, F12, F22, F91
ASTM A234 WP1, WP5, WP9, WP11, WP12, WP22, WP91
Duplex Steel Pipe Fittings
ASTM A182 F51, F53, F55, F56,F57, A815 UNS S 31803, 32205, 32550, 32750, 32760
Steel Pipe Bend vs Elbow
Elbow is a standard pipe fitting but pipe bends are custom fabricated. Bend pipe fittings have a larger radius then elbows. Generally the most basic difference is the radius of curvature.