Socket weld elbow is forged steel pipe fittings that used to provide direction changes in different degrees. 90° and 45° elbow is the most prevalent type. It is also an important and useful part for same or different sizes pipe connection. Socket welding is the connection way, that is insert pipes into a trapezoidal area of the elbow ends, then weld them together.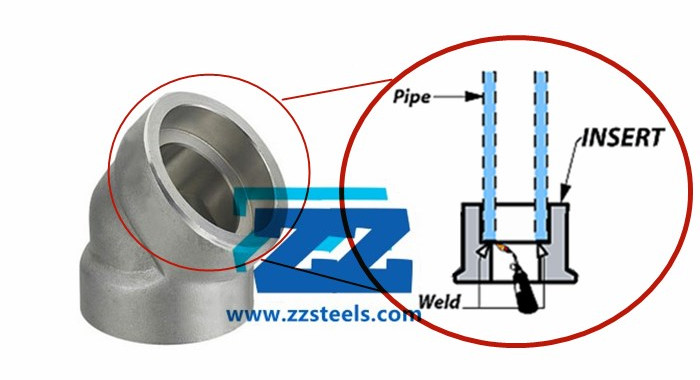 Features of Forged Steel Elbow
Socket weld fittings are fabricate by forging and pressing,
Less defect
Fine microstructure
Great mechanical properties
Withstand to high load working environment
Advantages of Socket Weld Fittings
Withstand to high pressure
Leak-proof
Easy to align and weld
No need to prepare for welding
How to Order Socket Weld Ebow
Steel pipe elbows are available in many degrees such as 90°, 45°, 180° and other special degrees according customer's require, but the standard socket weld elbow is only 90° elbow and 45° elbow.
The diameter is form 1/8" to 4". Based on the sizes of two end, there are equal / straight elbow and reducing elbow.
Equal elbow / straight elbow is the diameter of two ends is the same.
Reducing elbow has different diameters at two ends (one end is larger and the other end is smaller).
Pressure refers to the wall thickness of forged fittings. Socket weld elbow is available in class 3000, 6000 and 9000.
ASME standard is very popular overseas, and ASME B16.11 is served for forged steel pipe fittings. But there are many other standards are available such as BS 3799 and JIS b2316.
According to ASME B16.11, socket weld pipe fittings should be used with inch pipes, while some standard not specified Metric tube or inch pipe it will be use.
As we all know, radius is also important feature for pipe elbows, but forged elbow is not classified by this element.
Socket Weld Elbow Dimensions & Weight
90 Degree Elbow Dimensions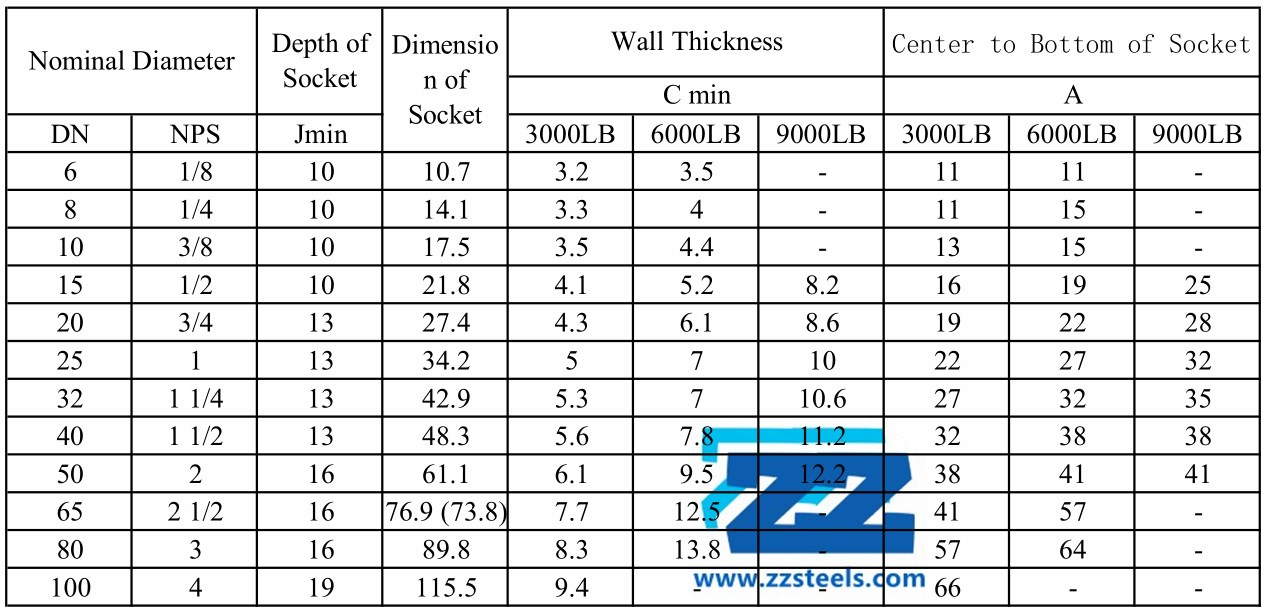 90 Degree Elbow Weight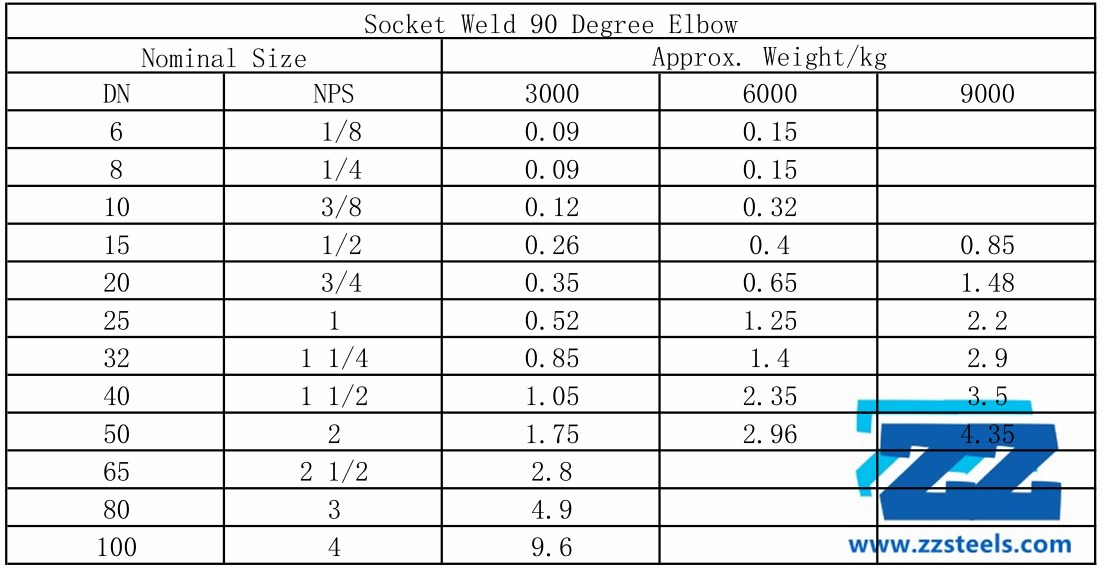 45 Degree Elbow Dimensions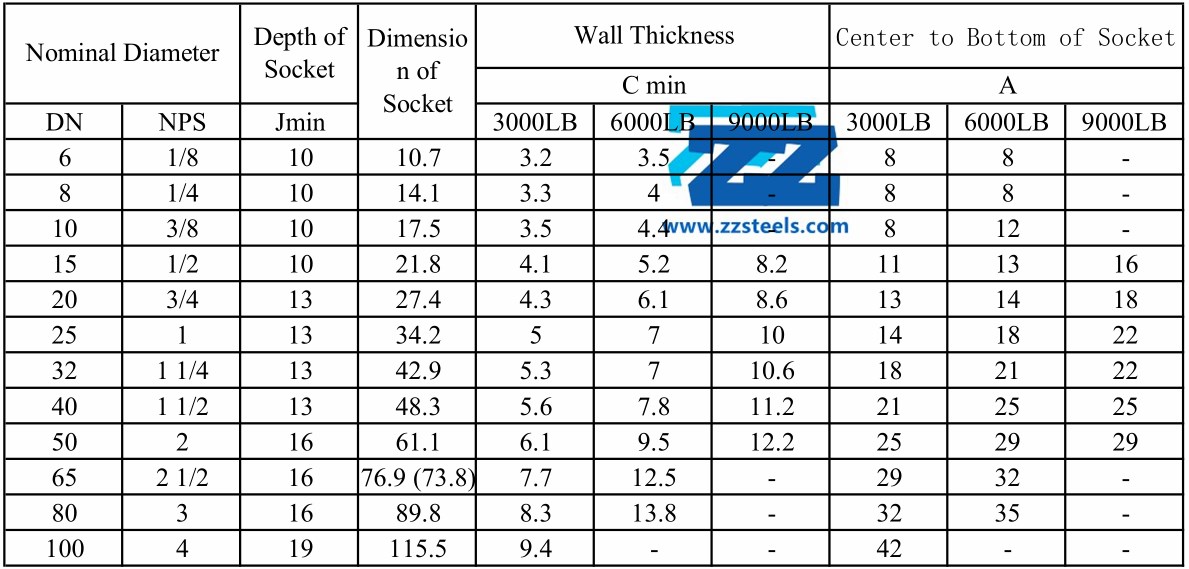 45 Degree Elbow Weight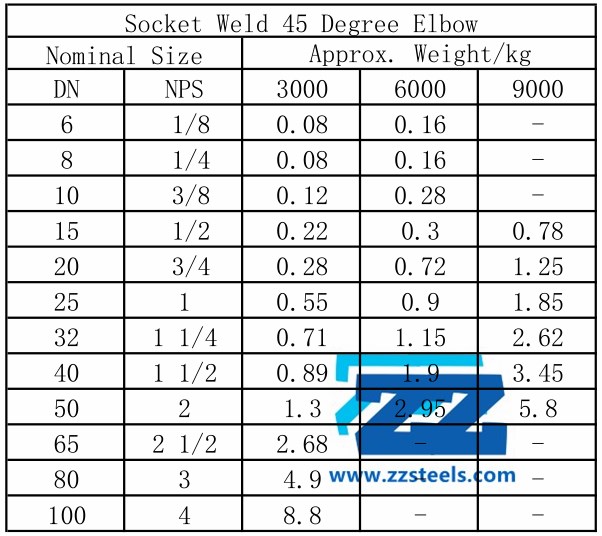 Materials for Forged Steel Pipe Fittings
Carbon steel Socket Weld Elbow
ASME A105, A350 LF/LF3, A106 A/B/C, API 5L
Stainless Steel Socket Weld Elbow
ASTM A182 F304, F316, F310, F321, F309, F317
Duplex Stainless Steel Socket Weld Elbow
ASTM A182 F51, F53, F55 / UNS S31803, S32205, S32550, S32750, S32950
Alloy Steel Forged Steel Elbow
ASTM A182 F1, F5, F9, F11, F12, F22, F91
Nickel Alloy Forged Steel Elbow
UNS2200 (NICKEL 200) , UNS2201 (NICKEL 201 ) , UNS4400 (MONEL 400 ), UNS8825 (INCONEL 825) , UNS6600 (INCONEL 600 ) , UNS6601 (INCONEL 601) , UNS6625 (INCONEL 625) , UNS10276 (HASTELLOY C 276)
Copper Alloy Forged Steel Elbow
UNS NO. C 70600 ( CU -NI- 45/10) , C 71500 ( CU -NI- 70/30), C70600 C71500
Application
High pressure and precision requirements applications such as
Oil and gas
Chemical
Power Generation  
Aerospace
Metallurgy
Shipbuilding