ASTM A182 is Standard Specification for Forged or Rolled Alloy& Stainless Steel Flanges, Forged Fittings, and Valves for High-Temperature Service.
They are widely used in petrochemical, oil & gas, power generation, chemicals, and paper manufacturing. We use the forged steel fittings and flanges to connect tubes in variety of industrial applications such as plumbing, heating, fluid distribution, air pressure lines and air conditioning.
Heat Treatment
After hot working, forgings shall be cooled to a temperature below 1000°F [538°C] prior to heat treating in accordance with the requirements as following.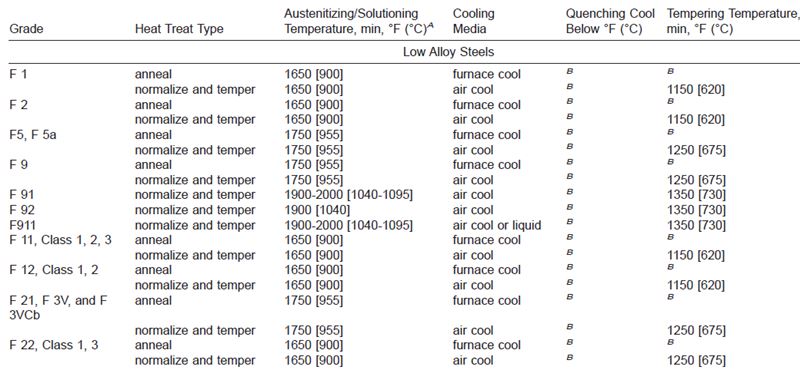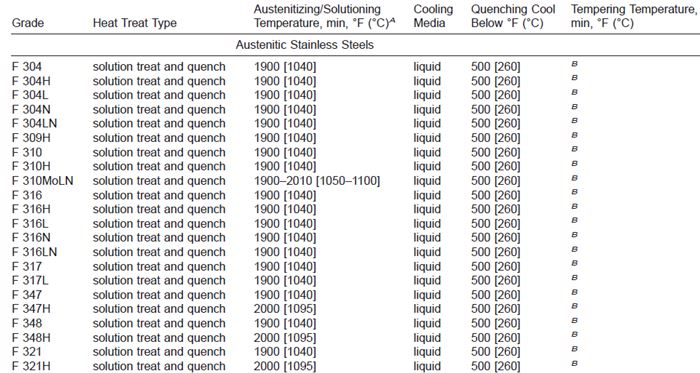 Stainless Steel Forged Fittings Types
Stainless Steel Forged Fittings ASTM A/SA182 in sizes 1/8″ to 4″, shapes & dimensions are conform to standard of ASME B16.11. 

Pressure ratings for threaded fittings are Class 2000#, 3000# and 6000#. 

Pressure ratings for socket weld fittings are Class 3000#, 6000# and 9000#.
Miscellaneous fittings such as pipe nipples, concentric & eccentric swages and branch connection outlets (olets) are also available.
There are some shapes for ASTM A182 forged steel flanges, such as blind flange, socket weld flange, threaded (screwed) flange, weld neck flange, long weld neck flange, SAE flange, slip on flange, spectacle blind, spade & spacer
They are available in size 1/2″ to 24″. For WN & BL Flanges, the size can reach up to 60″.
Pressure Ratings
ANSI Flanges: Class 150#, 300#, 600#, 900#, 1500#, 2500#.
API Flanges: Class 75, 150, 300, 600, 900.
JIS Flanges: JIS B2220 5K, 10K, 16K, 20K, 30K
DIN Flanges: 6 Bar, 10 Bar, 16 Bar, 25 Bar, 40 Bar.
BS 4504 Flanges: PN10, PN16
ASTM A182 Datasheet
Chemical Properties %
| | | | | | | | | |
| --- | --- | --- | --- | --- | --- | --- | --- | --- |
| Grade | C | Mn | P | S | Si | Ni | Cr | Mo |
| ASTM A182 F304 | 0.08 | 2 | 0.045 | 0.03 | 1 | 8.0-11.0 | 18.0-20.0 |   |
| ASTM A182 F304H | 0.04-0.10 | 2 | 0.045 | 0.03 | 1 | 8.0-11.0 | 18.0-20.0 |   |
| ASTM A182 F304L | 0.03 | 2 | 0.045 | 0.03 | 1 | 8.0-13.0 | 18.0-20.0 |   |
| ASTM A182 F304N | 0.08 | 2 | 0.045 | 0.03 | 1 | 8.0-10.5 | 18.0-20.0 |   |
| ASTM A182 F304LN | 0.03 | 2 | 0.045 | 0.03 | 1 | 8.0-10.5 | 18.0-20.0 |   |
| ASTM A182 F309H | 0.04-0.10 | 2 | 0.045 | 0.03 | 1 | 12.0-15.0 | 22.0-24.0 |   |
| ASTM A182 F310 | 0.25 | 2 | 0.045 | 0.03 | 1 | 19.0-22.0 | 24.0-26.0 |   |
| ASTM A182 F310H | 0.04-0.10 | 2 | 0.045 | 0.03 | 1 | 19.0-22.0 | 24.0-26.0 |   |
| ASTM A182 F310MoLN | 0.03 | 2 | 0.03 | 0.015 | 0.4 | 21.0-23.0 | 24.0-26.0 | 2.0-3.0 |
| ASTM A182 F316 | 0.08 | 2 | 0.045 | 0.03 | 1 | 10.0-14.0 | 16.0-18.0 | 2.0-3.0 |
| ASTM A182 F316H | 0.04-0.10 | 2 | 0.045 | 0.03 | 1 | 10.0-14.0 | 16.0-18.0 | 2.0-3.0 |
| ASTM A182 F316L | 0.03 | 2 | 0.045 | 0.03 | 1 | 10.0-15.0 | 16.0-18.0 | 2.0-3.0 |
| ASTM A182 F316N | 0.08 | 2 | 0.045 | 0.03 | 1 | 11.0-14.0 | 16.0-18.0 | 2.0-3.0 |
| ASTM A182 F316LN | 0.03 | 2 | 0.045 | 0.03 | 1 | 11.0-14.0 | 16.0-18.0 | 2.0-3.0 |
| ASTM A182 F316Ti | 0.08 | 2 | 0.045 | 0.03 | 1 | 10.0-14.0 | 16.0-18.0 | 2.0-3.0 |
| ASTM A182 F317 | 0.08 | 2 | 0.045 | 0.03 | 1 | 11.0-15.0 | 18.0-20.0 | 3.0-4.0 |
| ASTM A182 F317L | 0.03 | 2 | 0.045 | 0.03 | 1 | 11.0-15.0 | 18.0-20.0 | 3.0-4.0 |
| ASTM A182 F321 | 0.08 | 2 | 0.045 | 0.03 | 1 | 9.0-12.0 | 17.0-19.0 |   |
| ASTM A182 F321H | 0.04-0.10 | 2 | 0.045 | 0.03 | 1 | 9.0-12.0 | 17.0-19.0 |   |
| ASTM A182 F347 | 0.08 | 2 | 0.045 | 0.03 | 1 | 9.0-13.0 | 17.0-20.0 |   |
| ASTM A182 F347H | 0.04-0.10 | 2 | 0.045 | 0.03 | 1 | 9.0-13.0 | 17.0-20.0 |   |
| ASTM A182 F348 | 0.08 | 2 | 0.045 | 0.03 | 1 | 9.0-13.0 | 17.0-20.0 |   |
| ASTM A182 F348H | 0.04-0.10 | 2 | 0.045 | 0.03 | 1 | 9.0-13.0 | 17.0-20.0 |   |
Mechanical Properties
| | | | | |
| --- | --- | --- | --- | --- |
|  Grade |  Tensile Strength (Mpa) |  Yield point (Mpa) |  Elongation (%) |  Reduction (%) |
| ASTM A182 F304 | 515 | 205 | 30 | 50 |
| ASTM A182 F304L | 485 | 170 | 30 | 50 |
| ASTM A182 F316 | 515 | 205 | 30 | 50 |
| ASTM A182 F316L | 485 | 170 | 30 | 50 |
| ASTM A182 F321 | 515 | 205 | 30 | 50 |